The Pre-Prep section at Harrow Shanghai spans Years 1 to 4.
Curriculum
The Pre-Prep curriculum follows the British National Curriculum.

The year is divided into six half-termly themes that drive the focus of the curriculum. The class teacher teaches the vast majority of the curriculum. Literacy and Mathematics are taught both as discreet entities and as linked units to the half-termly theme work.
Each class in the Pre-Prep School also receives specialist teaching in Music, PE, Swimming, and Chinese.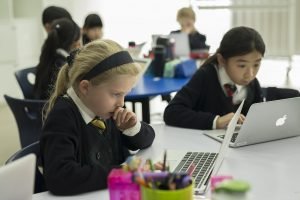 Structure of the School Day
The Pre-Prep day is a full programme from Monday to Friday. It begins at 8.00am and finishes at 4.15pm. The day is interspersed with regular breaks and opportunities for pupils to interact and develop social skills. At lunch pupils sit at class tables under the supervision of the staff. There is also be a mid-morning and afternoon snack.
Leadership and Service Programme
Integrated into the school day is the Leadership and Service (LAS) programme which ensures pupils undertake a range of extra-curricular activities above and beyond the academic curriculum for five hours per week.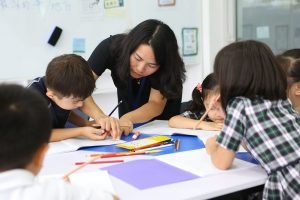 Learning Environment
The purpose-built Pre-Prep School at Harrow Shanghai hosts a variety of age-appropriate facilities, which support the curriculum in a number of ways. Each classroom has its own interactive technology in the classroom, as well as individual computers available on a very regular basis. The rooms are also well-equipped with educational resources that support the delivery of the curriculum.
There is also a dedicated Pre-Prep ICT suite, Music/Drama room and Art area. In addition, each Pre-Prep year group shares multi-purpose spaces designed to allow entire year groups to collaborate and work in a variety of challenging ways. The design and layout of the shared areas change each half-term with a new theme to study, and both pupils and staff are involved together in developing these learning spaces to create a real sense of excitement and ownership.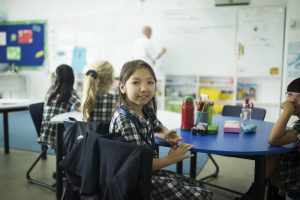 Prefects and Leadership Council
At the start of each term, a Head Boy and a Head Girl are appointed, who will participate in assemblies and other formal occasions. They will also be involved in the planning of Pre-Prep events. The Heads of Houses will also appoint House prefects to help plan and lead House events.
Elections are also held at the start of each term for year group representatives to sit on the Leadership Council. The council meets regularly to discuss ways of developing the experience at school for all Pre-Prep pupils. All pupils have the opportunity to make suggestions to their class representatives, which will then be discussed at council meetings.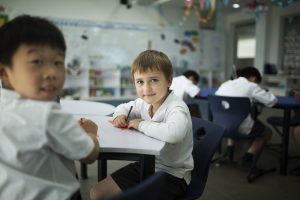 All these experiences and more combine to build leadership skills which can be used to benefit others, while preparing pupils for their transition into the Prep School. In this way, pupils truly embody Harrow Shanghai's vision of Leadership for a Better World.