A Harrow education has been consistently synonymous with excellence for almost 450 years, ever since the day our founding school was originated under a Royal Charter of Queen Elizabeth I in London in 1572. Harrow Shanghai draws on all of that excellence over the centuries to provide our millennial pupils with an exciting, inspiring and life-changing education which makes certain they will go on to be successful, fully-rounded and genuinely interesting people, wherever they go on to live and work in the world.
Harrow produces leaders. A long and continuing list of Old Harrovians such as Winston Churchill, Lord Shaftesbury, Lord Byron, King Hussein and Jawaharlal Nehru, having been shaped by their Harrow education, have gone on in turn to shape the world around them. Their Harrow genetics have driven them to make the lives of those around them better.
Cultivating and nurturing the leadership potential in every Harrow Shanghai child is at the very heart of the journey we have designed for our pupils. By constantly exposing them, day by day, to opportunities which will challenge them intellectually, physically, emotionally and socially, both within and outside of the classroom, we watch them grow and flourish. The Harrow Shanghai experience fuses the traditions, history and heritage of Harrow UK within an exciting modern, forward-looking and dynamically global educational setting. At the very core of that experience, which is rooted in strong values and a powerful sense of mission, is academic excellence. Our pupils excel in their studies, progressing on to the most prestigious universities across the world.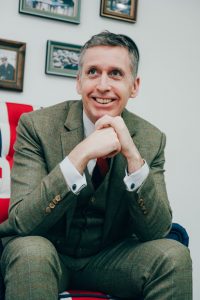 We understand that choosing the right school for your child is as challenging as it is important, and therefore we warmly invite you to visit us in person, to have a personal tour of our extraordinary campus facilities and, most crucially of all, to meet our leaders of the future – the impressive young Harrovians of Shanghai!
Charles Ellison
Head Master