Last weekend we celebrated the achievements of our first set of Old Harrovians at the Fairmont Peace Hotel. This hotel has been a Shanghai landmark for almost nine decades, enjoying a premier location on the Bund, facing the Pudong area over the Huangpu River. The hotel is truly a fusion of ancient and modern, Eastern and Western, and was built by Sir Victor Sassoon, a prominent British businessman, and Old Harrovian, in 1929. Recent guests have included American Presidents Bill Clinton and Barack Obama and in 2018 American entrepreneur, Elon Musk signed a deal to launch its first Tesla factory outside the United States in the same room where we raised a glass to the achievements of our first set of Old Harrovians.
The evening began at 7pm with a champagne reception in the Shanghai Room of the Peace Hotel followed by photos on the rooftop overlooking the juxtaposed views of old and new Shanghai. The Upper Sixth arrived in black tie and cocktail dresses and enjoyed a glass of champagne to mark their transition from pupils to Old Harrovians. There was much to celebrate. All have received offers from some of the best universities in the world including Cambridge University, London School of Economics, University College London, Hong Kong University of Science and Technology and the University of British Columbia, to name but a few.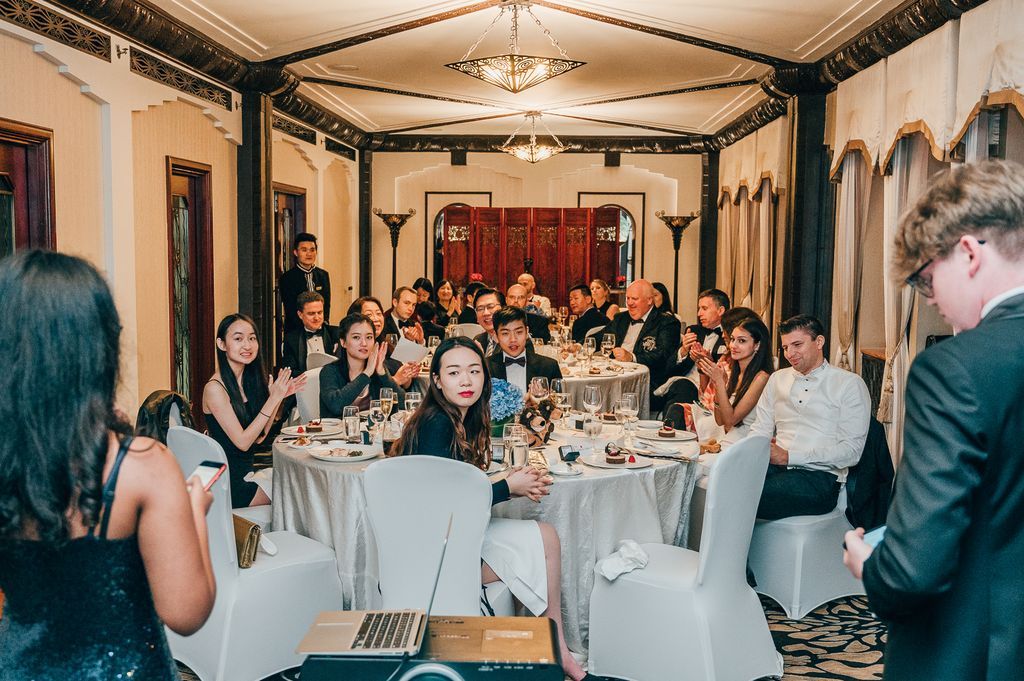 A three-course dinner followed, interspersed with speeches from pupils and staff, celebrating the school lives of our first group of leavers. Two of our leavers gave a wonderful speech highlighting the best qualities of each of their peers drawing on their favourite memories from across their Harrow journey and loyally thanking each of their tutors for making their time at Harrow both enjoyable and academically stimulating. One of the many highlights of the evening was the 'unofficial' awards. While many of our leavers enjoyed leadership and academic excellence awards at school these were a bit more light hearted including 'Best Dressed' awards and 'Inspiration' awards. In the spirit of the Harrow community these were voted on by those who knew them best – their teachers and their peers.
As the evening drew to a close our Old Harrovians looked towards their next immediate adventure before embarking on to their university lives. This was to stay up and watch the sunrise – a ritual for all new leavers. Rumour has it that they made it. We shall truly miss them though expect to see many of them again soon. They have all received standing invitations to return to give talks on their first terms/years of university to provide inspiration and guidance to our next crop of leavers. All we can do now is raise a glass to them and wish them all the best for their future. We are confident that the firm foundation they received at Harrow will ensure that they can take on any challenge life throws at them.