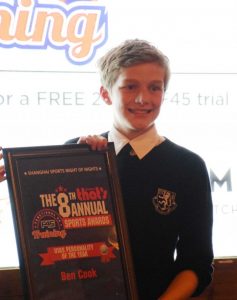 Congratulations to Ben Cook (Year 9), who won the silver medal in the That's Shanghai U18s Sports Personality of the Year award. This is the eighth year of the awards, organised by Urban Family, which are judged by nominations from coaches and teachers, and popular vote. Ben scored heavily in both areas, and was cited for his performances in football, cross country, volleyball, tennis and swimming.
As Harrow's Director of Sport, Matt Sleep, explained when nominating Ben: "He is an extraordinary athlete, 100 percent dedicated to his first love, football. Ben spent the Summer in 2017 training with the Leicester City Academy and was awarded the trophy for Best Player. At Harrow, he is the captain of the U19 team, made more impressive by the fact that he is U14 and also trains as part of the ESSA Football Academy, of which he is captain. Ben is an integral member of the U19 Volleyball team and U19 Cross-Country team, he swims for the Harrow Swim Squad and is also nurturing a love for tennis. Ben is a genuine sports aficionado and an exemplary athlete to his peers here at Harrow as well as across the entire city."
Thank you to all our parents and staff who voted for Ben. The biggest thanks must go to all his coaches, every one of whom is a Harrow teacher or coach. Ben was awarded his prize in a special presentation on Thursday, 8th February.