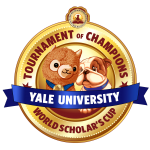 Six Harrow pupils travelled to Yale to take part in the World Scholar's Cup Tournament of Champions in November, competing against scholars from around the world in the four-day event. They began their trip with a few days in New York, including a visit to the United Nations and the 9/11 Memorial, together with many of the well-known historic sites, such as the Statue of Liberty, Central Park and Macys. They even took in a Knicks game at Maddison Square Gardens and a musical at Times Square. At the United Nations, the Harrow pupils were able to sit in the General Assembly, only feet away from where President Trump gave his keynote address just a few weeks before, and listen from outside the Security Council meeting, where the permanent and rotating members were debating the problems of Myanmar.
The World Scholar's Cup was celebrating its tenth anniversary and there were well over a thousand participants in the Junior division alone, who had travelled from every corner of the globe, having qualified through regional and global rounds for the most prestigious WSC event, the Tournament of Champions. The event began with an opening ceremony and an address from the renowned American poet, Rita Mae Reese. Annie Xu (Year 9) was one of the few pupils who was fortunate to be picked to ask Rita Mae Reese a question. "What three words best describe your poetry?" she asked. Ms Reese thought for a while, saying "What a great question", before answering "short, evocative and surprising". The opening formalities were followed by a delicious Thanksgiving Lunch and then it was on to the Scavenger Hunt, which took our pupils all over Yale following clues and gave them a chance to team up with delegates from other schools and make some new friends.
The first day finished with dinner with Yale undergraduates in Ezra Stiles College. It said a lot for the students that they were prepared to give up their time in this way, but the talks, described by the one boy member of the teams, as "uni banter" were very much two-way and gave the pupils an invaluable insight into what it's like to live and study at a university with the pedigree of Yale. This is a pedigree which includes five presidents, as recent as George W. Bush and Bill Clinton (wife Hilary too), and an astonishing succession of Hollywood stars, such as Meryl Streep, Paul Newman, Henry Winkler, Vincent Price, Sigourney Weaver, Jodie Foster, Edward Norton and Sam Waterston, not forgetting movie directors, Elia Kazan, George Roy Hill and Oliver Stone.
Day two was the main competition day with the Scholar's Challenge, the creative writing team task and then the all-important debates. The two teams had practised as much as they could for these over the preceding days, honing their debate style, but there was only so much preparation they could do as the actual debate motions were revealed just fifteen minutes before the debates. The Harrow teams more than held their own against most of the finest debating schools from around the globe, winning five of their six debates. It was a credit to their many qualities, teamwork and sheer determination to do so well. It was wonderful to see how our intrepid pupils grew both as individuals and in their intellectual self-confidence as the competition, in its various formats, wore on. None of them was out of place at one of the world's leading universities, and it was fascinating to see them using their experiences in New York, especially at the United Nations, to support their knowledge, arguments and rebuttals in the debates, for example in arguing for an international approach to space exploration and for a greater emphasis on disarmament. They really had listened and taken it all in.
It was a quick dash back to the hotel after the debating to change for the Scholar's Ball, which was really a disco, albeit held in the ballroom of the main New Haven hotel! The next morning was the Scholar's Bowl, a multiple-choice round with some real brainteasers for questions. Before the event started, there was the flag ceremony, where one participant from each country represented was invited to hold the flag for their country and parade it on stage. Harrow's very own Ben Cook was chosen to represent the United Kingdom. During the Scholar's Bowl, proceedings were halted for the distribution of a cuddly alpaca, the mascot of the WSC, for each participant. The alpacas had special neck scarves commemorating the 10th anniversary. The theatre soon looked more like an outing to a toy store than a scholarly event as everyone cuddled their colourful alpacas, or balanced them on their heads! At lunchtime on the main New Haven green, we were joined by Painted Warrior, the real alpaca upon which the cuddly WSC mascot is based, along with his friend, Trevor, both of whom were very amenable about posing for photos with their adoring fans. After lunch it was the talent show which we were not able to secure a spot in – better luck next time – with a fascinating array of talent on show. Who needs Asia's Got Talent?! After a quick dinner it was then time for the cultural fair, which was a WSC take on a school international day, with stalls from a large number of countries, manned by WSC participants and teachers, offering national foods to taste and various giveaways.
The last day saw us packing our bags and checking out of our hotel before heading for the presentation ceremony, which lasted over four hours. Our pupils had to make several trips to the stage as they won an impressive number of gold and silver medals in all areas of the competition, scoring particularly highly in the debating and the Scholar's Bowl. All six pupils, Emmer Wang, Judy Jiang, Rebekah Hunt, Ben Cook, Annie Xu and Brightly Shen, did the school proud.
It was impressive how both teams, with an average age of 13 to 14, settled into life at one of the great universities of the world. It was almost moving to see the Harrow uniform, boater and all, becoming a familiar sight amongst the hallowed halls and corridors of such a university. Rita Mae Reese was so impressed with Harrow that she has agreed to visit the school in the next few months and tell us how those three words, in answering Annie's question, have influenced the content and mood of her poetry, even better if she can do her workshops in the Simon Armitage Library, a fellow poet she greatly admires. In every sense Harrow's experiences at the World Scholar's Cup showed what a small world it is and how a Harrow education can make it even smaller, providing opportunities for us to further our studies in unexpected and unique ways.