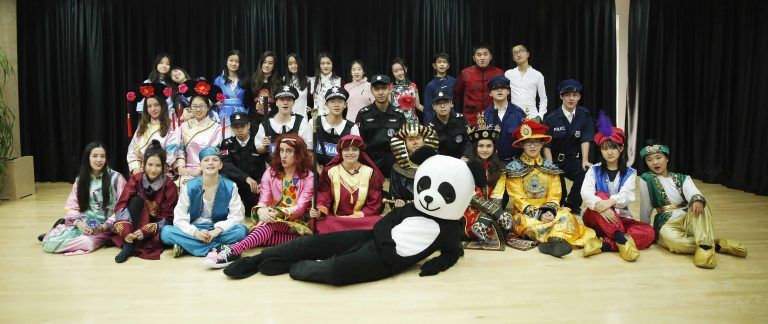 To follow on from the success of Shakespeare's Macbeth last year, Harrow's Senior School pupils have explored another uniquely British theatrical institution: the pantomime.
Pantomime, or 'panto' as it is usually called, is a form of comic, interactive theatre, traditionally performed around the Christmas, or New Year season. The story of a panto is usually based on a popular fairy tale, such as Cinderella, Jack and the Beanstalk or, as in the case of Harrow's recent production, Aladdin. They are aimed at family audiences, incorporating songs and dance, slapstick comedy and jokes.
The plot of a pantomime is usually very simple. A boy, who is actually a girl playing the part of a boy (the Hero), who is the son of a women, who is being played by a man (the Dame), will fall in love with a girl (the Heroine). Throw in an evil villain, determined to stop the course of true love and you have all the ingredients for a traditional British panto.
The origins of pantomime date back to ancient Greece and became popular in ancient Rome. It grew as a type of theatre in Italy in the Middle Ages and reached England in the 16th Century. It takes many of its ideas from pagan festivals that were still celebrated in medieval England, where the world was turned topsy turvy – like men playing women's parts in panto.
The story of Aladdin concerns a poor boy named Aladdin who is recruited by a sorcerer (who passes himself off as the brother of Aladdin's late father) to retrieve an oil lamp from a magic cave. It is a great story of how to confront adversity and how to win against the odds.
Comedy is one of the most challenging forms of performance. It requires self-control, precise timing and an alertness to the reactions of the audience. No more is this the case than in panto, where audience interaction is a key element. Audience members are actively encouraged to cheer and clap for the hero and to boo the villain whenever he or she enters. Heckling is also encouraged.
Harrow's panto did not disappoint with our Senior School pupils rising to the challenges magnificently. Set against a backdrop of locations in Old Peking and Egypt, Aladdin and his friends defeated the evil sorcerer Abanaza, found the magic lamp and everyone lived happily ever after.
With colourful costumes and strong performances from its lead characters, all three shows were sold out and the audience participation was boisterous and, above all, great fun! There was something for everyone, and it was lovely to see Harrow's younger pupils really getting involved in the audience participation. There was plenty of booing when the villain came on stage and lots of calling out "he's behind you" and plenty of ad-libbing from the talented cast.
It would be unfair to single out any individual performances, because there were so many. A real strength of the production and of Harrow's inclusive approach to the Performing Arts, is that every pupil in the Senior School was involved with the production. However, an important vote of thanks goes to Norman Lacey and the Art Department, who did a terrific job of building the set and Pranayam Aquino for his work installing a sound system, with state-of-the-art microphones. A special mention also to Jamie Cook (Year 12) for composing the catchy opening song Welcome to Peking.