As the Summer Term gets underway, we were delighted to hear the announcement by the Shanghai Epidemic Prevention and Control Group that schools are due to reopen soon. We are now pleased to share with you the very many steps that are already in place on campus and the health and safety plans ready for the reopening of the School.
1. Deep Cleaning and Disinfection Plan
Before the School reopens, the campus will undergo a further deep disinfection clean of all areas. After the School reopens, we will strengthen safety management with thorough daily cleaning and disinfection.
2. Stock of Anti-epidemic Supplies
We already stock enough anti-epidemic supplies, such as hand sanitizers, disinfectants, masks, gloves, alcohol, thermometers, forehead thermometers, a thermo imaging machine, etc. These will continue to be re-stocked after the School reopens.
3. Strict Management of Personnel Entering the School
Students and staff must wear masks and show their city health QR code. Everybody's temperature is taken using our new thermo-imaging camera and software before entering campus. Social distancing measures are in place.
Those parents who need to enter must have their identities verified, city health QR code presented and their temperature tested.
Unrelated personnel are not allowed to enter the School.
4. Sophisticated Health Monitoring and Emergency Response Mechanisms
Before going to School every day, parents need to test the temperature of their child at home and complete the daily report form.
School buses and classrooms will be equipped with forehead thermometers to monitor students' temperatures regularly.
Harrow International School Shanghai has set up an Emergency Response Team. Any person with relevant symptoms will be transferred to the designated Temporary Isolation Area immediately to seek medical treatment promptly. We've also established a direct reporting system to communicate with the local education department, health department, disease control department, community health service center, designated hospitals and other joint prevention and control agencies, etc.
5. Restrictions on the Flow of People in Different Areas 
Strict control of the flow of people in common areas such as library and canteens, with social distancing measures in place.
6. Epidemic Prevention Knowledge
The students and staff will be taught and reminded to take precautionary measures whilst at School. We will be mindful of the mental health of everyone at Harrow Shanghai, offering professional support and guidance wherever necessary.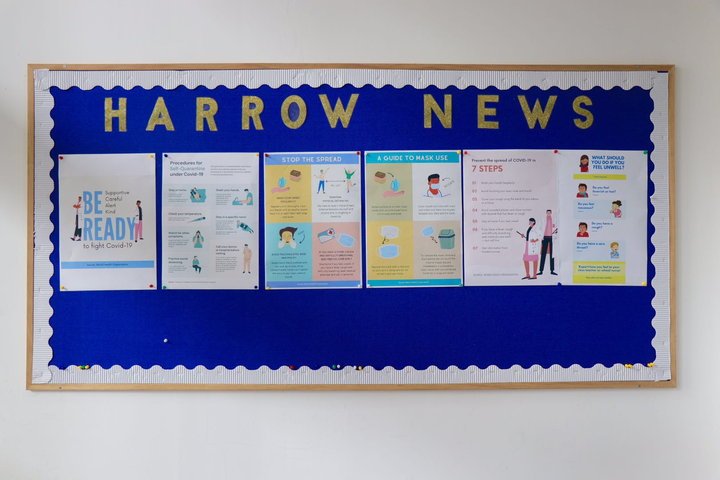 Our Harrow staff are very much looking forward to welcoming our students back to School. Below are some warm-hearted welcome messages:
What am I excitedly looking forward to most? Seeing our young Harrovians laughing and playing together, rediscovering the school campus and most importantly their friendships.  Schools are not simply corridors and classrooms, they are communities of people who enjoy learning and growing together bonded by their connection to what makes us special – being a Harrow School. (Charles Ellison, Head Master)
I am looking forward to the reopening of our school and seeing everyone back on campus soon. The senior leadership team and I have been working hard to ensure the school is ready for reopening. From enhanced hygiene measures to medical procedures and training for all staff, pupils and parents, we are focusing on high quality health and safety on our campus to keep every member of the community safe and healthy.
Stay safe and stay healthy, and hopefully I will see you all soon! (Kelly Marie Wailes, Deputy Head)
I am very much looking forward to welcoming back all our students to School. It has been too long without the company of friends, colleagues and children. The school has been too quiet! But as with all things, the Phoenix shall rise again soon, the bells shall start ringing and there will laughter in the corridors once more. (Thomas Corbett, Director of Studies)
This has been an unusual time, but I am sure that your curiosity and sense of adventure has continued. I hope that this time at home has given you the chance to daydream and develop your imaginations and different skills away from school, clubs and busy lives. I never stop appreciating the value of viewing the world though the eyes of children. I learn so much from your outlook. I am very much looking forward to seeing you all again, your smiles, hearing your amazing theories and your laughter. (Clair Wain, Head of Early Years)
Thank you so much for helping to keep our sense of community throughout this unprecedented time. Supporting your child(ren)'s engagement within online learning has kept up the momentum of their learning. Thank you again for all the feedback that has helped us to re-shape the online learning. Let's hope we are all back in school together in the very near future. (Jonathan Horsnell, Head of Lower School)
I cannot express how excited I am that school will be open very soon. I have learnt a lot over the past 2+ months about online teaching and have had the privilege to have taught some of you, I cannot wait to see you all in action at Harrow; I have missed you. (Sian Evans, Head of Prep School)
To ensure the safety of our students, the administrative and operation teams have been working hard. We have purchased all kinds of anti-epidemic supplies since the end of January. Now we are equipped with hand sanitizers in each classroom, a thermo imaging machine at the school entrance, forehead thermometers in each school bus and classroom, and sufficient masks. From March to April, daily cleaning and disinfection have been conducted, and thorough air disinfection will be conducted 3 days before the School reopens. We have also conducted staff training to get everyone fully prepared. We look forward to seeing our lovely students very soon! (Linda Sun, Head of Operations)
I simply cannot wait to see all our smiley happy Harrovians back at school. I know learning is important and we want the best for our children, however it is fundamental that they are happy and feel confident about who they are. As a family we have spent a lot of quality time together but we have had our moments too. We will build on this as a community and I am confident your child will continue to strive and be the best they can be. (Kate Ellison, School Ambassador)
We look forward with excitement to seeing all of you back to Harrow Shanghai soon!