Congratulations to Brightly S in Upper Sixth (Year 13), who recently secured a place to study Illustration at one of oldest and best-known art schools in the US – Rhode Island School of Design (RISD). As a founding student of Harrow, Brightly's journey to achieve this excellent outcome is celebrated by Brightly, her family, and our Harrow family! Let's hear each of them describe this outstanding journey.
BRIGHTLY'S VOICE
"I currently study A Level Art, Geography and Drama. Art is the subject I will focus on in college, and I really enjoy the in-depth time I spend creating different pieces as I pursue my passion in art. Geography is a subject that I am confident and passionate about, and it also helps to inform my current art coursework. Initially, I chose drama due to the set and costume design elements, but I've learned to love other aspects of this subject as well.

RISD is my first-choice university, so I am delighted to gain early acceptance into their prestigious programme – it's a dream come true for me. In addition to my A Level studies, I completed a TOEFL test and an ACT (similar to SAT) test. I am particularly thankful to Mr Bennetts, my higher education counselor, who provided crucial support throughout the application process, as well as my art teacher, Ms Ward, who provided insightful input to help me build my art portfolio.

In my six years at Harrow Shanghai, I have had the opportunity to participate in the Duke of Edinburgh Award (bronze and gold), numerous inter-school Model United Nations programs, leadership and service activities, orchestra, choir, and the Student Council. Every day at Harrow is a highlight for me because of my friends and teachers."

Brightly S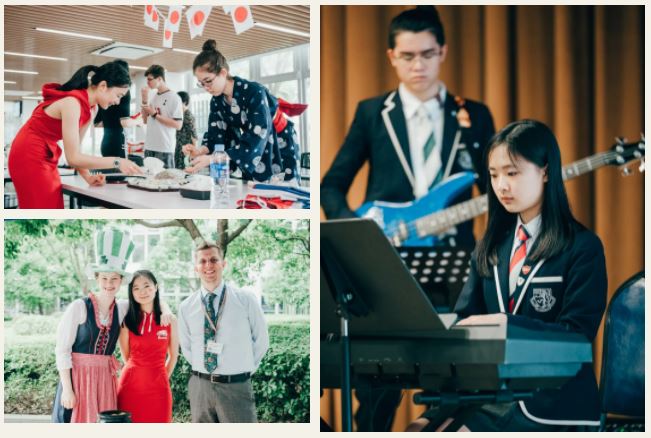 PARENT'S VOICE
"Over the last few years, I have done extensive research and asked many top US universities about whether A Level results would be accepted as part of the admissions process. I have been advised that the type of curriculum (A Level, IB, AP) doesn't matter to the schools – the academic results in the key subjects required by the program are most important. US universities are appreciative of A Level results because they are more in-depth than other courses, and students have time to develop deep expertise and passion in the core subjects they are passionate about.

Harrow's intimate environment has really allowed Brightly to grow and nurture her interests, passions, and character. Through endless opportunities and constant encouragement to try new things and participate in many exciting ventures offered by the school, Brightly has really blossomed and become a confident and respectable young woman."

Eva Huang, Brightly's Mother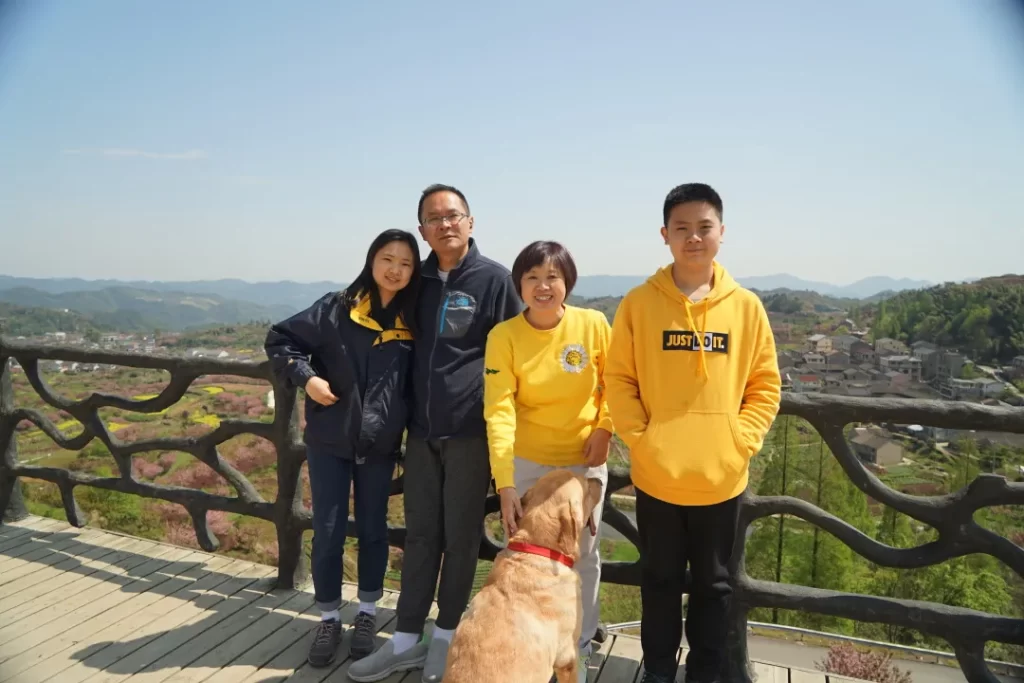 TEACHERS' VOICE
"Whilst Brightly has shown herself to be an accomplished student across all her subjects, it is abundantly clear that Art has captured her heart and imagination. A short walk around our corridors showcases dozens of excellent pieces that Brightly has lovingly created over her time at the school. In conversation, Brightly lights up when she talks about her EPQ (Extended Project Qualification), for which she is creating a visual translation of a Chinese novel; she loves using Art to tell stories and wants to use her artistic talents to bring joy to others.

Brightly also wants, more generally, to make a positive difference to the world around her. She has made an immense contribution to our school community, as a school monitor, house captain, student council member and participant in numerous inter-house events and competitions. She has also been a mentor to, and an excellent role model for, our younger students. Her latest offerings have included extended art pieces on the sustainable development goals and a short animation on sustainable food."

Zach Bennetts, Head of Higher Education and Careers
"It has been my absolute pleasure to be part of Brightly's learning journey in Art, seeing her grow into an extremely creative student in both her practical work and in her creative thinking. She is always open to new viewpoints, seeking conversation, and researches her areas of interest in great depth to enable her to grow as an artist in both developing her understanding of new and interesting processes and techniques, whilst investigating the work of both well established and upcoming artists to inspire her and learn from them.   

Brightly has a great thirst for knowledge and enjoys a challenge whilst thinking clearly and logically. The pursuit of learning and wanting to push herself creatively is something that Brightly consistently strives for and has done from an early age. She is passionate artist who has great curiosity, being able to observe, record and interpret what she sees with skill and originality, creating beautiful and insightful responses."   

Frances Ward, Head of Art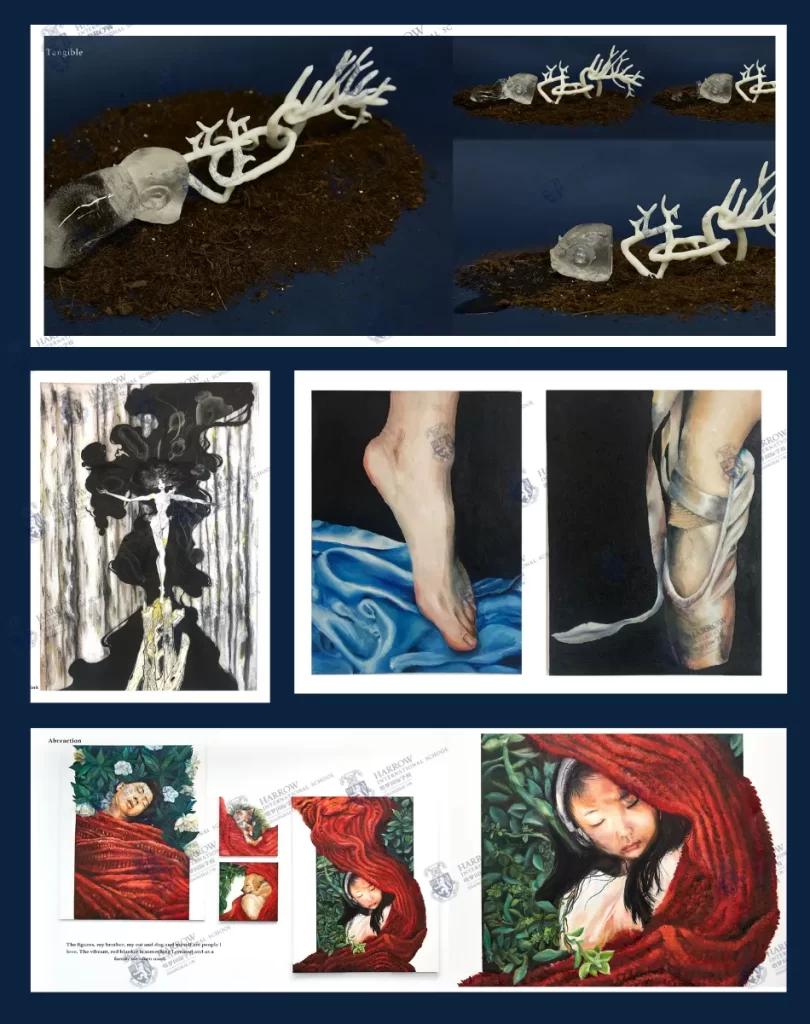 "Brightly is such a talented artist and she is so generous with her skills. Whether it is decorating the House Common Room and Sixth Form Common Room notice boards, designing Christmas cards to sell for charity, or making a hand drawn animation for our Leadership & Service project to highlight the importance of minimising food waste, she is always willing to use her talent to help others.

As her tutor, my main role has been to check in with Brightly every morning, to praise her and celebrate her successes, and to be supportive when the process has proved stressful. When the work has piled up and deadlines were looming, it was just a case of encouraging her and reminding her that she is amazingly capable and to keep going and working towards her goal. I am so pleased that she has achieved this goal and has been accepted; there is nobody more deserving and I know that she will have a fantastic time and enjoy many more successes at the RISD and in the future."

Stephen Eddison, Brightly's Tutor
"The Harrow Shanghai community is immensely proud of Brightly.  As a founding student at the School, she has been a beacon of inspiration for others as a proud, hard-working, compassionate and ambitious Harrovian.  Brightly personifies all that is centrally important within a Harrow education and we are delighted that her astounding artistic talent has been right recognized by one of the world's leading universities.  A hugely exciting future lays ahead."

Charles Ellison, Head Master
Here at Harrow, we strongly support and embrace each individual student so that they can become the best person they can be – by unlocking the unlimited potential inside each of them. Our small, intimate environment allows us to cater to and care for individual students.