Schools and universities around the world participate in the Model United Nations (MUN) programme, an opportunity for pupils to better understand how and why the United Nations works, developing their debating and diplomacy skills and engaging with global issues which affect us all.
This academic year, it's been exciting to see in-person Model United Nations (MUN) conferences resume around Shanghai. At a MUN conference, pupils become delegates representing countries around the world and use the rigorous debating protocols of the United Nations to debate issues decided by the conference organisers. These issues are often based around the UN's sustainable development goals, including: the alleviation of poverty; promoting quality education; working towards global health and well-being and gender equality.
Ms Tess St Clair-Ford, who leads the MUN team at Harrow Shanghai, explains: "It's more important now than ever that our young people are growing up with a strong understanding of the challenges the world faces and the responsibility their generation has for working collaboratively to overcome these. The UN is a key part of the solution and the MUN teaches young people how this works."   
For our Shells (Year 9) students, their first experience of a MUN conference was at SSI in November. The topics under debate for this one day beginners' conference were displaced persons; the rise of hybrid threats and education in the Fourth Industrial Revolution. Our delegates researched their countries and prepared opening speeches, adhering to MUN parliamentary procedures and learning a lot about these challenging global topics and about the nature of successful MUN conference participation.
During their MUN ECA, our Shells have been developing their public speaking, debating and research skills. They have been learning about the history of the UN and understanding how diplomacy and parliamentary debate works, as well as learning how to draft MUN resolutions which are the keystone documents which are debated and amended during a MUN conference.
In December, the MUN ECA team hosted their very own MUN conference here at Harrow Shanghai for our Shells and Removes pupils. The Shells showed real leadership in planning, preparing and organising the conference, from deciding the topics to preparing resources and ordering catering. The topics chosen by our MUN students were LGBTQ rights and minimising the global impact of rising sea levels. Intense debates were held, some excellent opening speeches were made and our team of Chairs from amongst our Shells students showed confidence, leadership and excellent communication skills. Prizes were awarded at the end of the conference for Best Overall Delegate and Most Influential Delegate.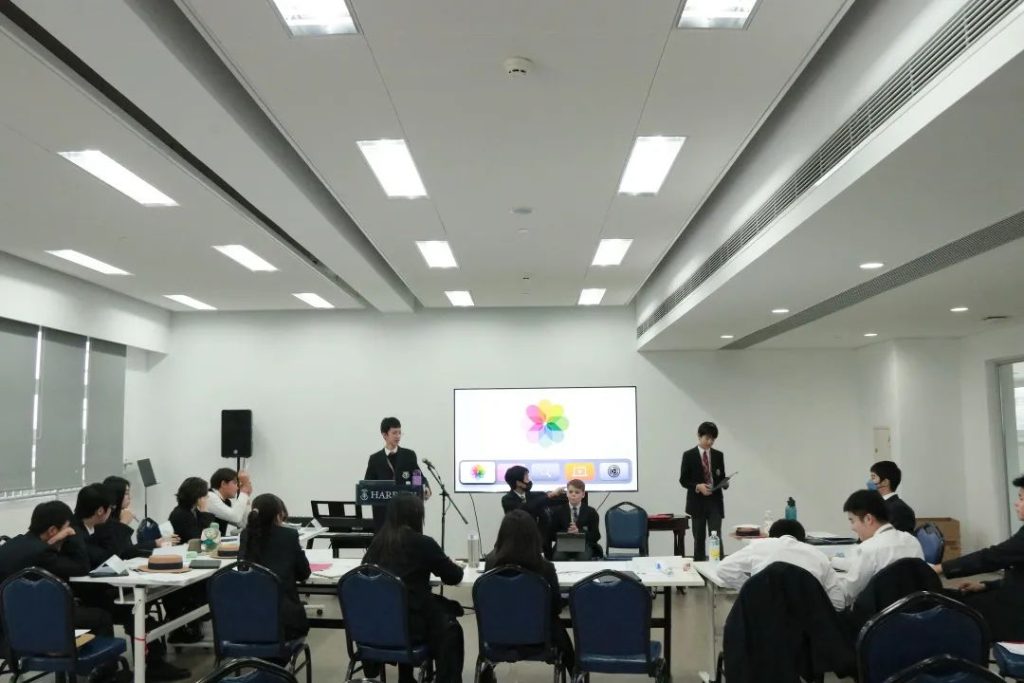 "I'm so proud of all that our MUN students have achieved and learned so far," says Ms Tess St Clair-Ford, "The MUN process celebrates the very values that Harrow holds dear and is a brilliant opportunity to develop leadership among our younger Seniors. We're looking forward to attending further MUN conferences to be held at Shanghai schools this spring and I'm confident that our students will go on to lead and chair many conferences in the years to come."