Harrovians, their parents and staff are celebrating another year of record-breaking public exam results here at Harrow Shanghai. 
After one of the most challenging years schools across the world have ever faced, the astonishing grades recently achieved by the pupils sitting their A Levels in the Upper Sixth (Year 13) and IGCSEs in the Fifth Form (Year 11) demonstrate what can be achieved through a combination of unwavering pupil perserverance, determination and the inspiration of expert teachers.
For our Upper Sixth leaving students, their hard-earned grades ensured that for the second year in a row all departing Harrovians will be entering their first choice universities. 
The IGCSE results achieved by the Fifth Form students set yet another new record at Harrow Shanghai, with no less than 53% of all examinations taken graded at the very highest A* level, and 88% graded A* or A.  These statistics are clearly not only way above the UK averages for the year but also some way above the majority of highly regarded selective schools in the UK and international schools worldwide.  These students will be aiming high in terms of their applications to the most competitive universities across the globe over the next eighteen months, with the support of our specialist Higher Education advisory team.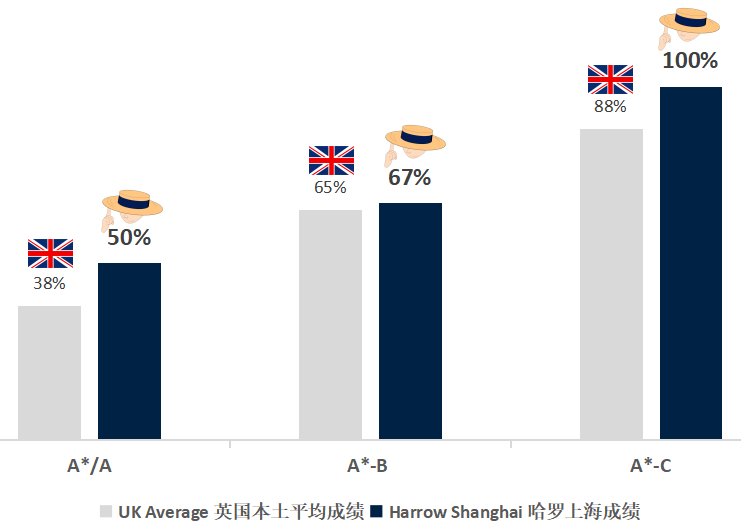 The proud Head Master, Mr Ellison, commented: "These examination results are truly outstanding and all the pupils and their teachers deserve a huge amount of credit and praise.  Harrovians are known for their resilience, commitment to excellence and high ambition.  These results are a clear indication that when hard-working pupils, who are devoted to making the very most of their potential, are given the opportunity to learn daily from high-performing teachers in small class sizes then the outcomes are breathtaking.  These students now have very exciting futures that lay ahead of them."