We're delighted to celebrate Harrow Shanghai's IGCSE results, as we are of the whole year group, achieved 36 A* and A grades between them. In Year 11, Elaine scored full A* and A Grades; Skye and Abby achieved excellent results across the board. Congratulations! We can't wait to see their AS Level results next year! 
The magnificent results is a testament to our children's abilities and the school's enduring educational ethos. At Harrow, we know that a brilliant education is the key for any young person's university aspirations.
At Harrow Shanghai's Sixth Form, students enjoy a fully guided, comprehensive educational journey. Starting in Year 10, we partner with students on their individual IGCSE curriculum. In Year 11, we offer not just in-depth IGCSE exam preparation, but also early taster sessions for A Levels. This aims to help students make informed subject choices, prepping them for their final years and university applications.
We run an annual scholars' trip to Harrow London, where Year 11 students can engage in academic dialogue with their peers from Harrow schools around the world. What's more, they get to tour top-tier institutions like Oxford and Cambridge, experiencing their vibrant academic worlds.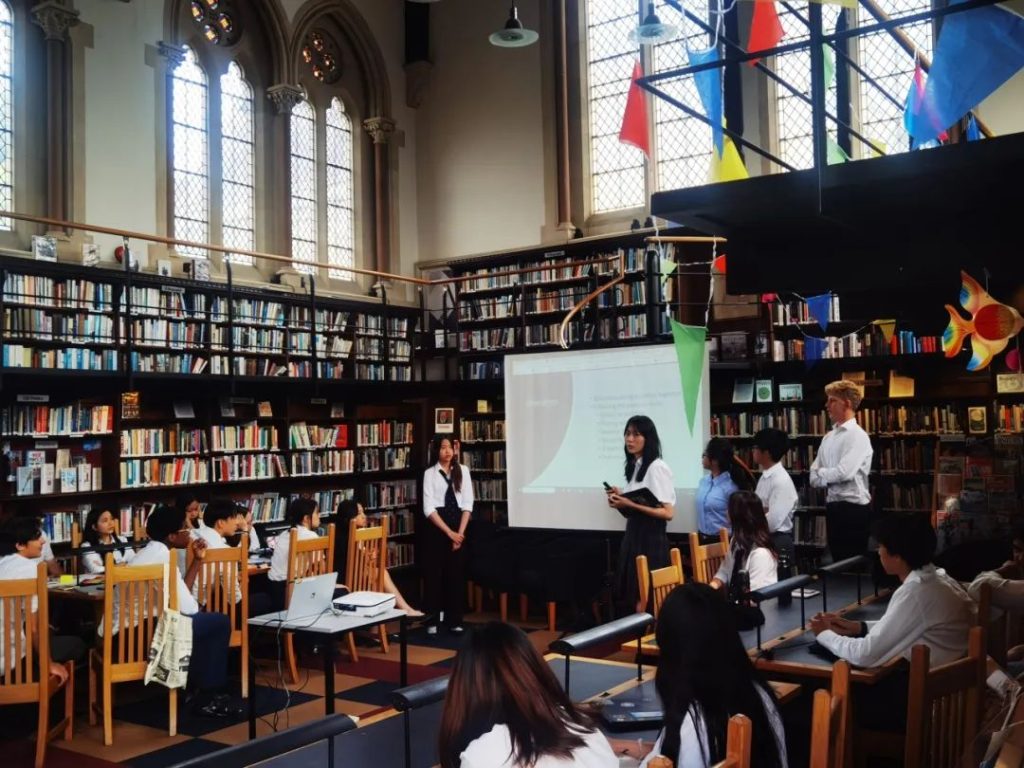 One of the great strengths of our Senior School continues to be our small class sizes. These enable teachers to truly get to know every student in their care, understand their passions, strengths, and areas for development, and provide personalised learning opportunities which enable both personal growth as well as academic success.
At Harrow Shanghai, this is supported by the pastoral care provided by form tutors and Housemasters/Housemistresses, as well as the multitude of opportunities extended to our students, all of which serves to broaden their horizons and help them to become confident, well-rounded, and engaged global citizens.
"I am very proud of our Fifth Form students for the results they have achieved in their IGCSEs. I offer my particular congratulations to Elaine, Skye, and Abby, for achieving excellent results across the board, but I applaud all of our students for the outstanding progress they made over the course of their studies. I feel confident that they are ready to embark on the next stage of their journey – most of them continuing into the Sixth Form to study A Levels – and I have no doubt that they will achieve considerable success in the future!"

Zach Bennetts, Head of Senior School
"This is my fifth year at Harrow Shanghai, and I thoroughly enjoy learning here. Teachers have given me so much support and encouragement during my learning experience. I always feel welcome to ask questions, and they're so patient to answer any problem I encounter.

Apart from academic support, teachers always help me to appoint school counselor when I feel depressed. I found chatting with the counselor is especially useful when I feel anxious and stressed. After every session of counseling, I'm so relaxed, particularly during the exam period, and this made me feel like exams are more manageable.

Next term, I'll continue to study A Levels at Harrow Shanghai. I couldn't wait to come back to school to meet my friends and teachers."

Elaine Cao, Year 11 student