Happy Teacher's Day, to our beloved teachers. On the occasion of Teacher's Day, we extend our heartfelt gratitude and best wishes to all the educators at Harrow.
Today, we once again delve into the perennial topic of "education". However, this time, we break away from the conventional path and, through the perspective of parents at Harrow Shanghai, explore the profound impact education has on children.
A child's mind is like a treasure chest, filled with wisdom, reason, will, character, and more. Education is about unlocking these innate gifts.
"Ms Amy was Ophelia's teacher in Nursery. She consistently praised Ophelia's sense of humour, transforming her from introverted to outgoing. This not only demonstrated the power of education but also deepened our appreciation for our child. What stands out is Ms Amy's keen 'eye for talent.' She's adept at spotting even the subtlest strengths in each child. This creates a class environment full of love and support. Each child, thanks to their interactions with this wonderful teacher, learns to be both strong and kind."

Ophelia's mum
Teachers do more than just teach facts or aim for high ranks. They shape children's values, worldview, and attitudes, whilst fuelling them with aspirational goals.
For Thomas, who took up music late, Harrow Shanghai's music classes provided a challenging yet opportune platform. Here, Mr Penfold became an invaluable mentor.
"Last year, the bassoon was a struggle for Thomas," his mum noted. Undeterred, Mr Penfold sent extensive tips. "His detailed advice showcased his commitment." she said. It bolstered Thomas's musical confidence and highlighted the importance of dedication and tenacity. "What's truly moving is that Mr Penfold never dismisses a child based on their aptitude; he's committed to unlocking their potential. He never gives up on an average child, which is truly touching," added Thomas's mum.mUnder Mr Penfold's tutelage, Thomas is now keenly practicing daily, making strides in music.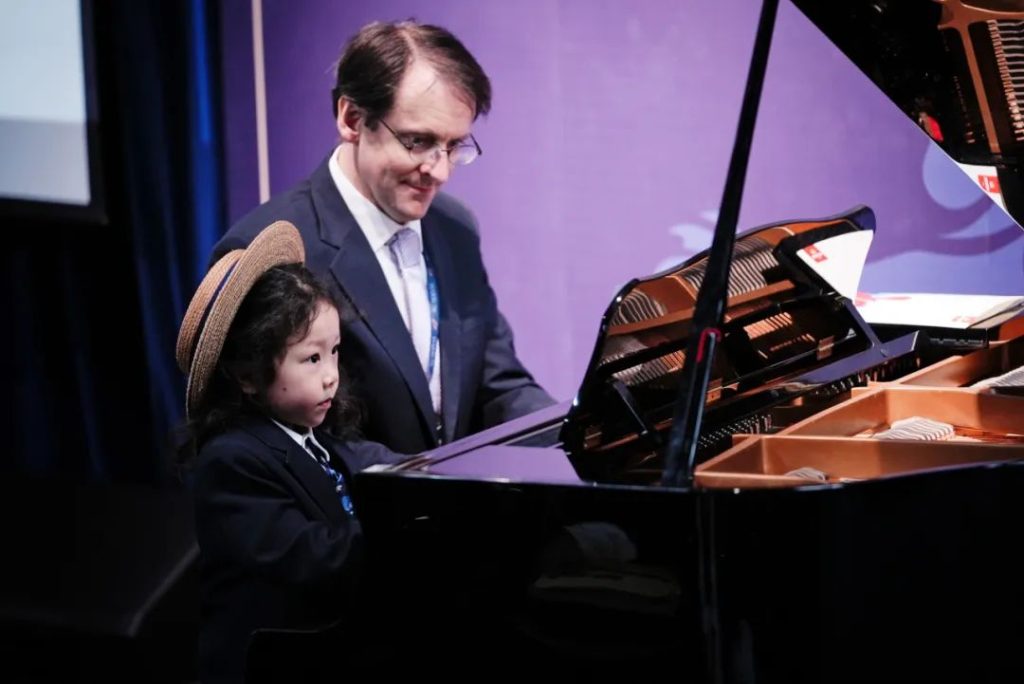 Is the purpose of education simply to achieve high marks on exams? Is the goal of education to secure a respectable job after graduation? At Harrow Shanghai, it goes far beyond that; it happens in the countless small moments of a child's growth.
In the first half of 2022, like most schools in Shanghai, Harrow Shanghai also shifted to online education. This transition posed a significant challenge for both students and teachers. This was especially true for Winnie's form tutor, Ms Alice, who had to return to the UK due to the impact of the pandemic. However, this did not stop her from continuing to fulfil her duties as a teacher.
Despite being in a foreign land, Ms Alice continues to provide online classes for her students daily. However, what she does extends far beyond conventional teaching. In every lesson, she sets aside some time to take the children "outside" by sharing videos of the natural scenery in the UK. This not only satisfies the children's curiosity about the world but also helps alleviate the anxiety they may be feeling from being confined to their homes for extended periods. 
What's more, at the end of each class, Ms Alice allows her pet dog to engage in adorable interactions with the children, bringing them indescribable joy. These seemingly trivial actions have, to a great extent, mitigated the children's fears about the uncertainties of the outside world, making the daily online classes a moment they look forward to the most.
Mr Reed has mentioned the educational philosophy of "Happy Children" in multiple interviews. We firmly believe that the true value of education lies not only in imparting knowledge and skills but also in sparking children's curiosity, bolstering their psychological resilience, and offering meticulous care and support at every stage of their growth. It's about enabling children to accept and appreciate themselves from the inside out. Once they understand themselves, they can develop interests, and from that foundation, joyfully learn and come to understand the whole world.