During the final week of the term Harrow Shanghai was delighted to host the Chamber Orchestra of Harrow School (London) made up of a number of the boys, staff, the Head of Strings and the Director of Music.
Shanghai was the first stop on an exciting widespread tour of China for Harrow London in December during which they played a number of concerts in aid of very worthwhile Chinese charities.
Prior to their highly impressive public concert at the Oriental Art Centre Music Hall in Pudong, in front of over 1000 guests and a number of VIPs, the orchestra played a very special private concert at Harrow Shanghai for our own pupils, staff and parents. They also toured the school and enjoyed lunch with our own pupils. The highlight of the morning was undoubtedly the joint singing of the Harrow Song – 'Forty Years On' – first in English by the boys from London and then in Mandarin by the Shanghai pupils; a very special and unique moment!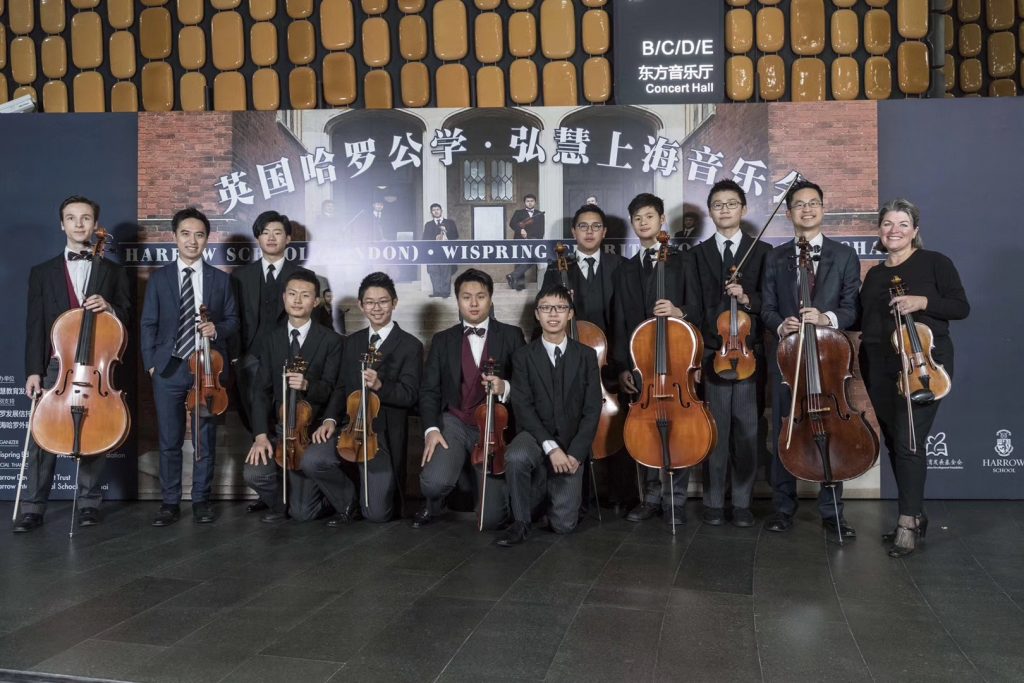 The public concert was a masterpiece and included an eclectic range of music for strings, piano and the marimba. The standard of playing was quite extraordinary. The evening also involved remarkable contemporary dance performances by the D.LAB DANCE dance group, featuring the famous ex-ballerina Duan Jingting. All proceeds, which were considerable, were donated to the Wispring Foundation to assist with education programmes for children in rural areas of China.
As a family of schools, Harrow is committed to making the very most of our connections so that all of our pupils in London, Hong Kong, Bangkok, Beijing and of course Shanghai can continue to be inspired as proud and ambitious Harrovians – just like the 'Giants of Old' – so that they might go on to make the world around them a better place for all.